Lawyers Winning 5X Initial Offers Using Emotion AI
| Posted on: | Category:
Case Valuations
Lawyers are using EmotionTrac's AI powered Emotional Analysis software to gain insights on case valuation. These insights are being used to include in their demand letters and to leverage their ask at mediation. Personal Injury Attorneys in particular have benefited from insights gleaned from EmotionTrac. By using the AI emotional analysis that EmotionTrac provides, lawyers preparing Demand Letters have leveraged these insights to win case settlements amounting to five times or more the initial offers from the insurance companies.
"This is a must solution for all attorneys to use in preparing to settle with opposing counsel or evaluate potential jury reactions in pre-trial research."
Nicole Kruegel, Attorney - Domnick Cunningham & Whalen
In preparing Demands, EmotionTrac helps to posture the case early on by delivering a synopsis of the case to defense. EmotionTrac delivers a pre-litigation review of the case to find out how people would value cases (pre-suit perspective as part of the Intake and Demand process).
Case materials are delivered via a mobile application to an unbiased and independent mock jury. This virtual audience consists of an opted-in panel (a minimum audience size of 100 participants). The EmotionTrac AI technology captures emotions instantly based on the viewers' reactions to the exhibits and other materials presented. Data science is used to analyze and deliver meaningful insights that prove invaluable for trial preparation (see below).
EmotionTrac works by utilizing the front-facing camera of a smart phone in an app that plays video while recording micro expressions of the user with emotion AI. Each audience participant is isolated from each other, unlike Focus Groups that can be influenced by one persuasive participant. In this way, there are no more false positives or false negatives because panelists are independent of each other and can't be influenced by the others and the results can't be tainted.
Instead of going to trial, settlements that are multiple times the original case valuations are typical once lawyers know what the emotional reaction is going to be to the assets of the case.
A typical Personal Injury Attorney handles 50-100 cases per month, and using EmotionTrac AI the insights gleaned can lead to 700% or more increase in case valuations.
For example, an attorney that has an intake of 50 cases monthly can estimate that 1/3rd of the cases are worth at least $150k. Spending approximately $40k to evaluate all 16 cases through EmotionTrac to determine valuation will return the investment if just one of those cases settles for more than $150k.
Excerpts from an EmotionTrac client report for an auto accident case that settled before trial are shown below.
---
In this case, the initial settlement offer from the insurance company was $150k and the case settled for the maximum policy benefit of $1 million (more than $10 million was the overwhelming response regarding how much should be awarded).
Background:
In preparation for Jury Selection and Case Strategy in this tragic scenario, it was agreed to test a "case prep" Reel of Assets that would be deployed during an actual trial. Items such as Attorney opening/closing remarks, pictorial details of an accident, witness testimony, medical bills, etc. are all types of "assets" that would be used to create the Narrative Arc of the story.


Using the EmotionTrac AI Research Platform, 137 participants watched a mini opening video about the case on their mobile devices and answered the survey questions presented at the end of the test. The test was designed to test for red flags or pain points in the content, curiosity, confusion, general appeal and engagement, sentimental reactions to the content, and responses to case-specific questions.


A short series of survey questions related to the content were designed to further shape the Narrative:
• Observe & Analyze Reactions to Communicating Strong (Open) Religious Conviction, - e.g., John explains in the video that he reads the Bible every day
• Determine if reactions to award amount would alter (increase/decrease) given that the driver of the Ford F-250 was using a cellphone
• Examine if there is a value for the loss/pain & suffering (Loss of consortium) due to John for his personal loss
The responses to the survey questions revealed the following:
---
Thinking about John losing his wife Hazel, what would you award John for the death of his wife in this accident?
By Gender: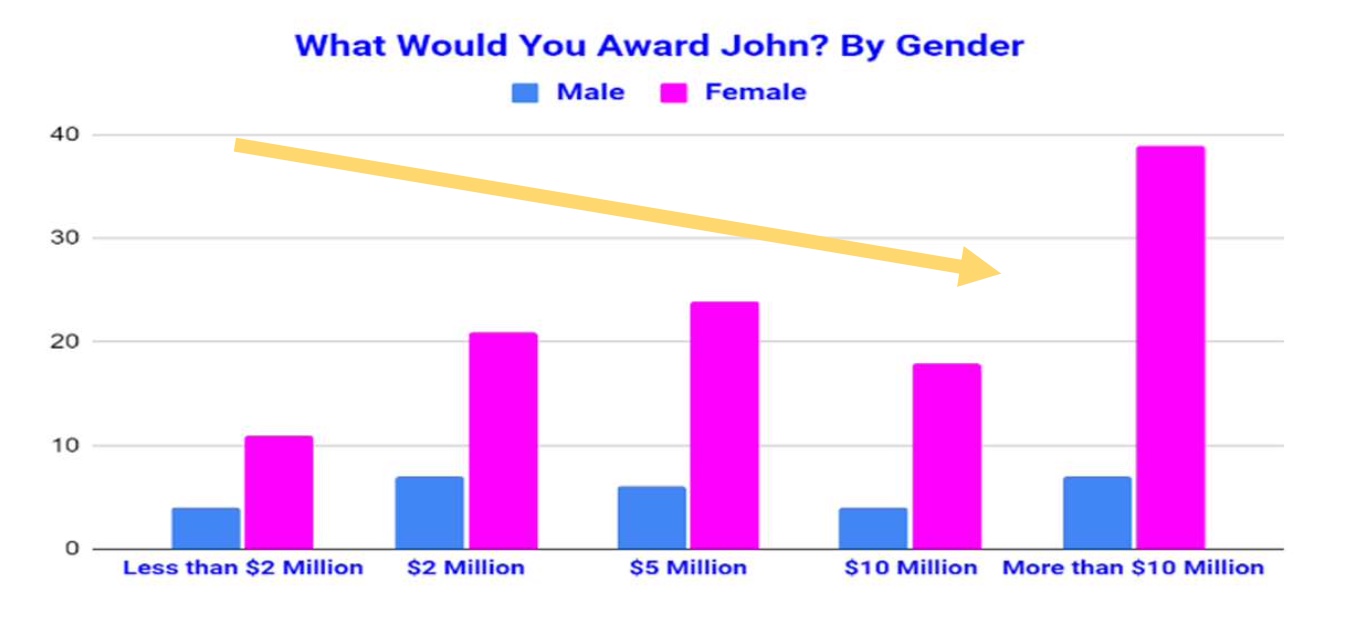 By Age: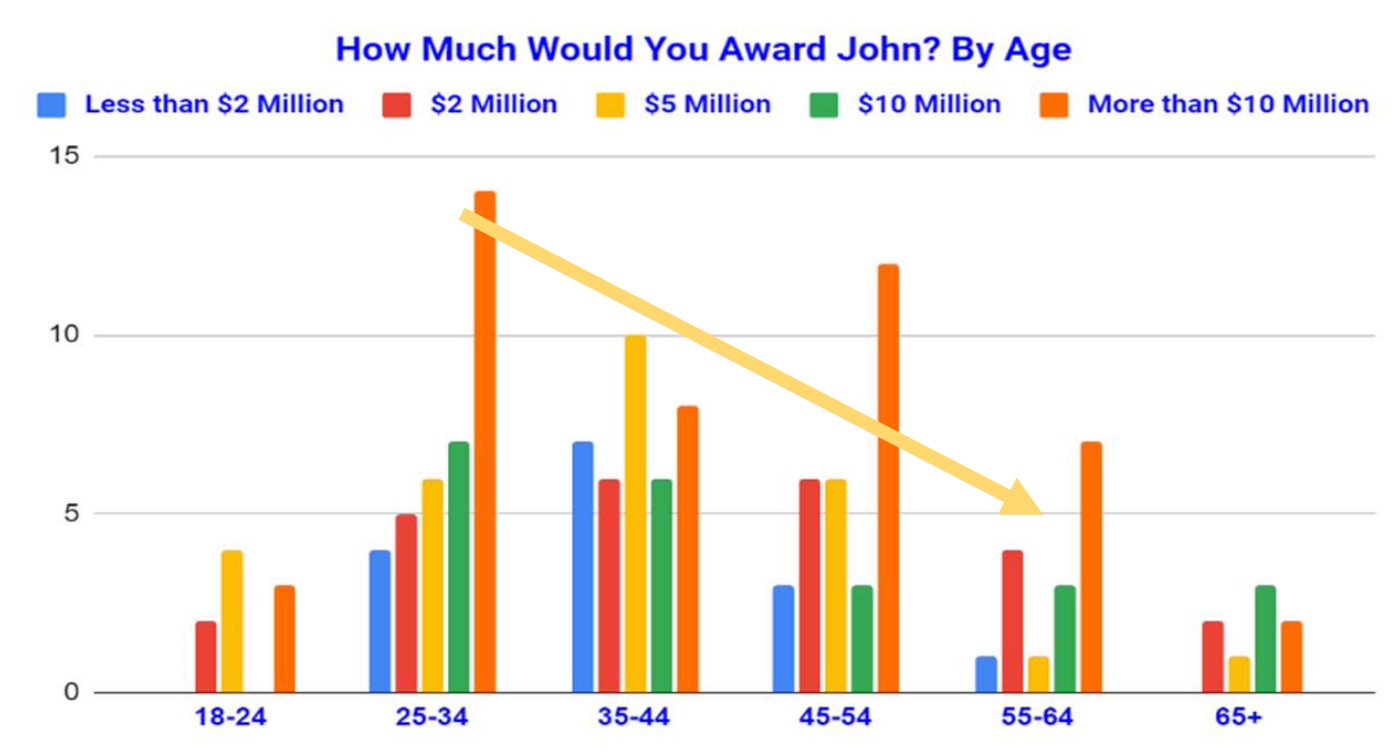 By Marital Status: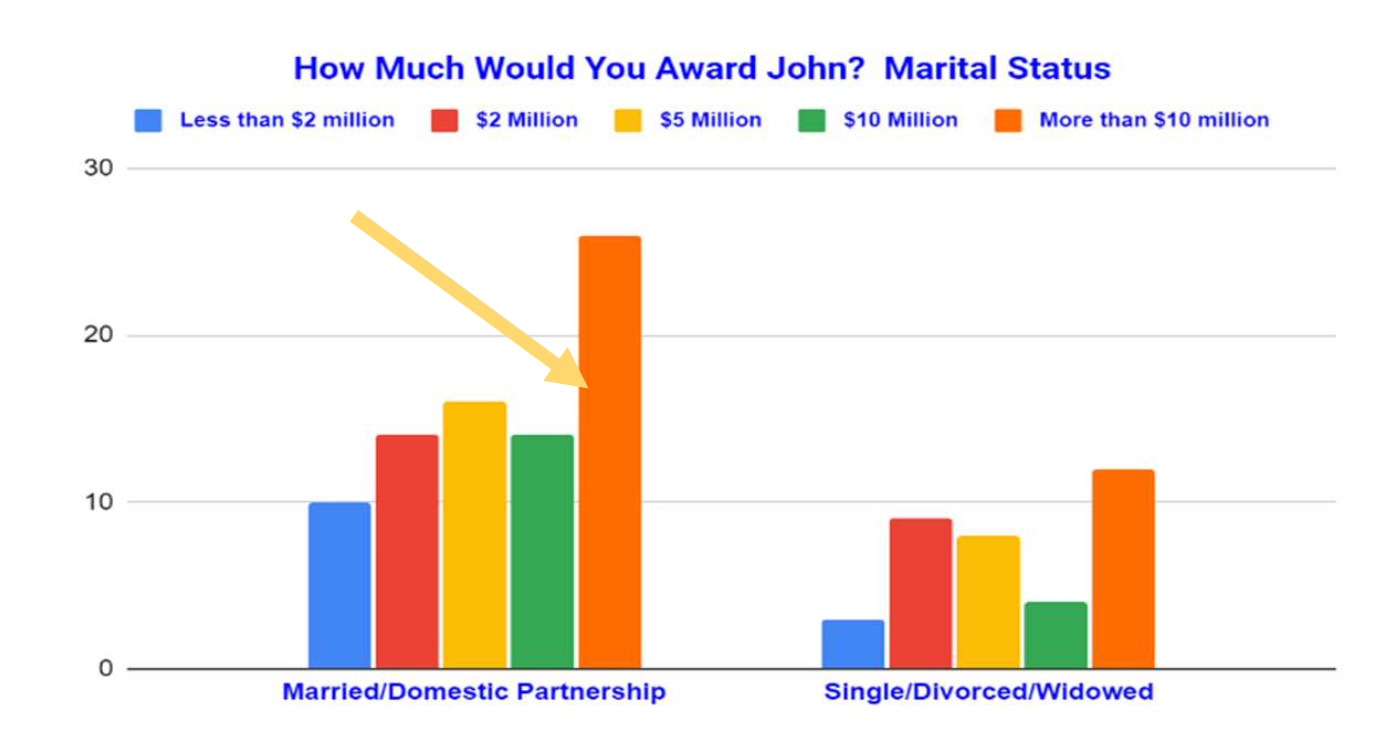 By Education: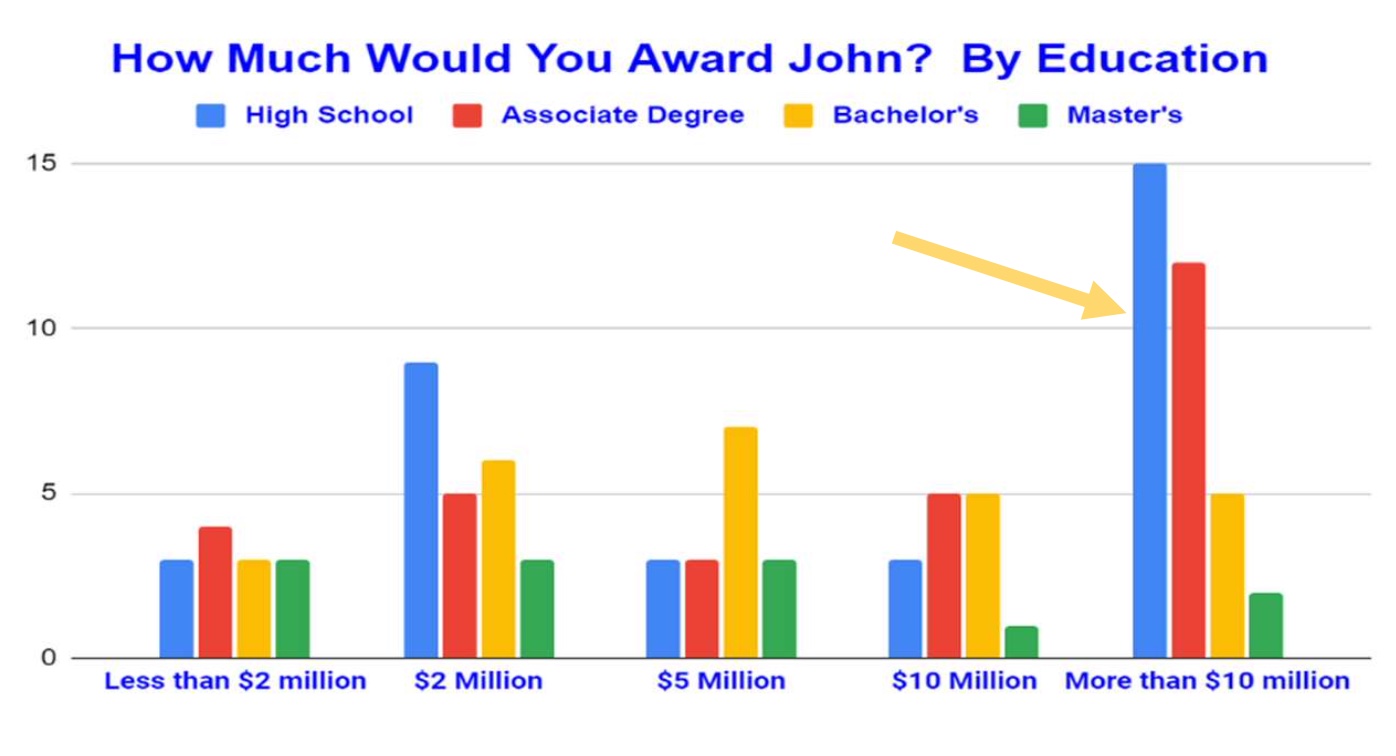 ---
If you were a juror on this case, what is the exact amount you would feel John deserves to be compensated with?
By Marital Status: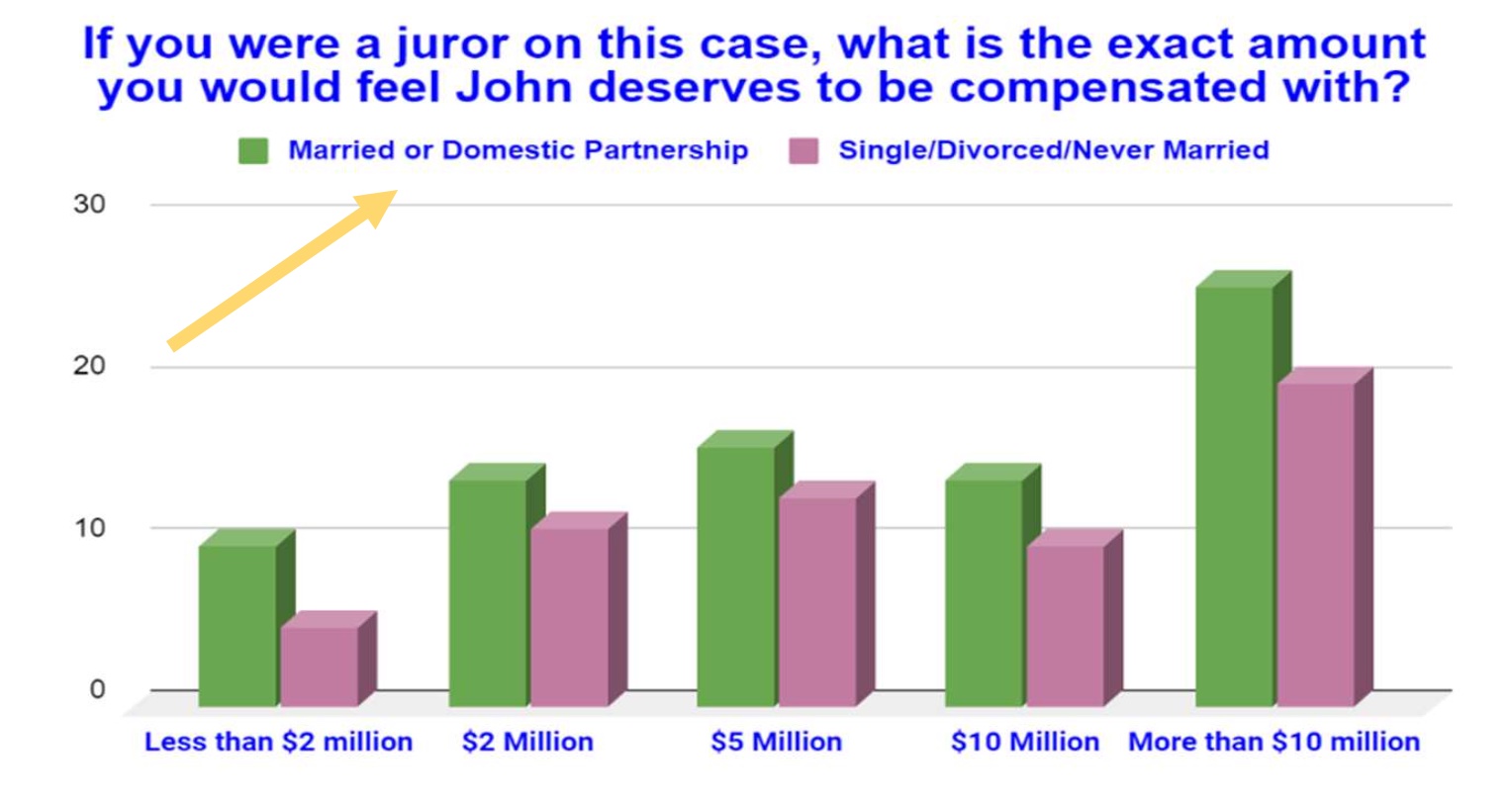 By Age: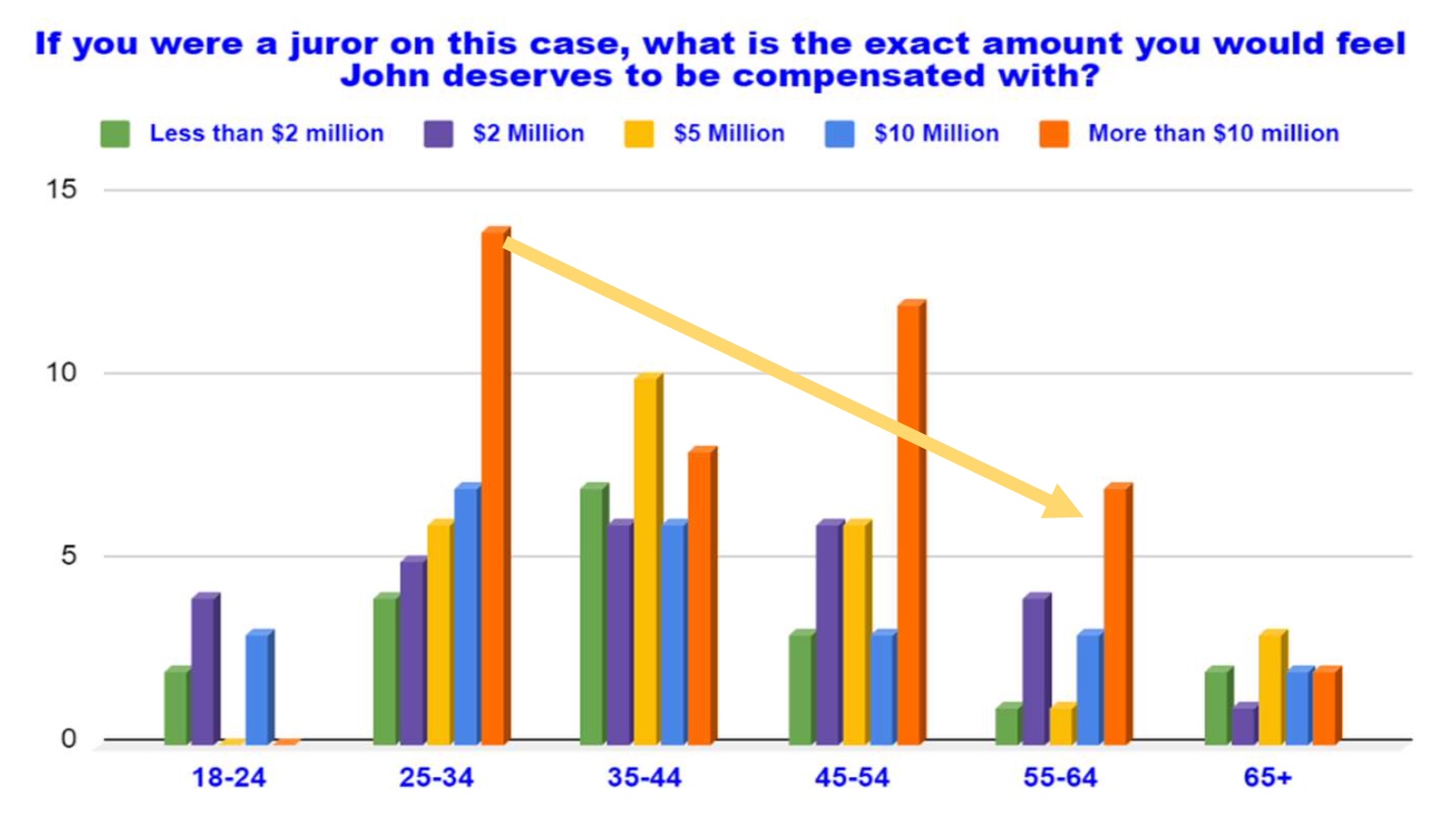 By Education: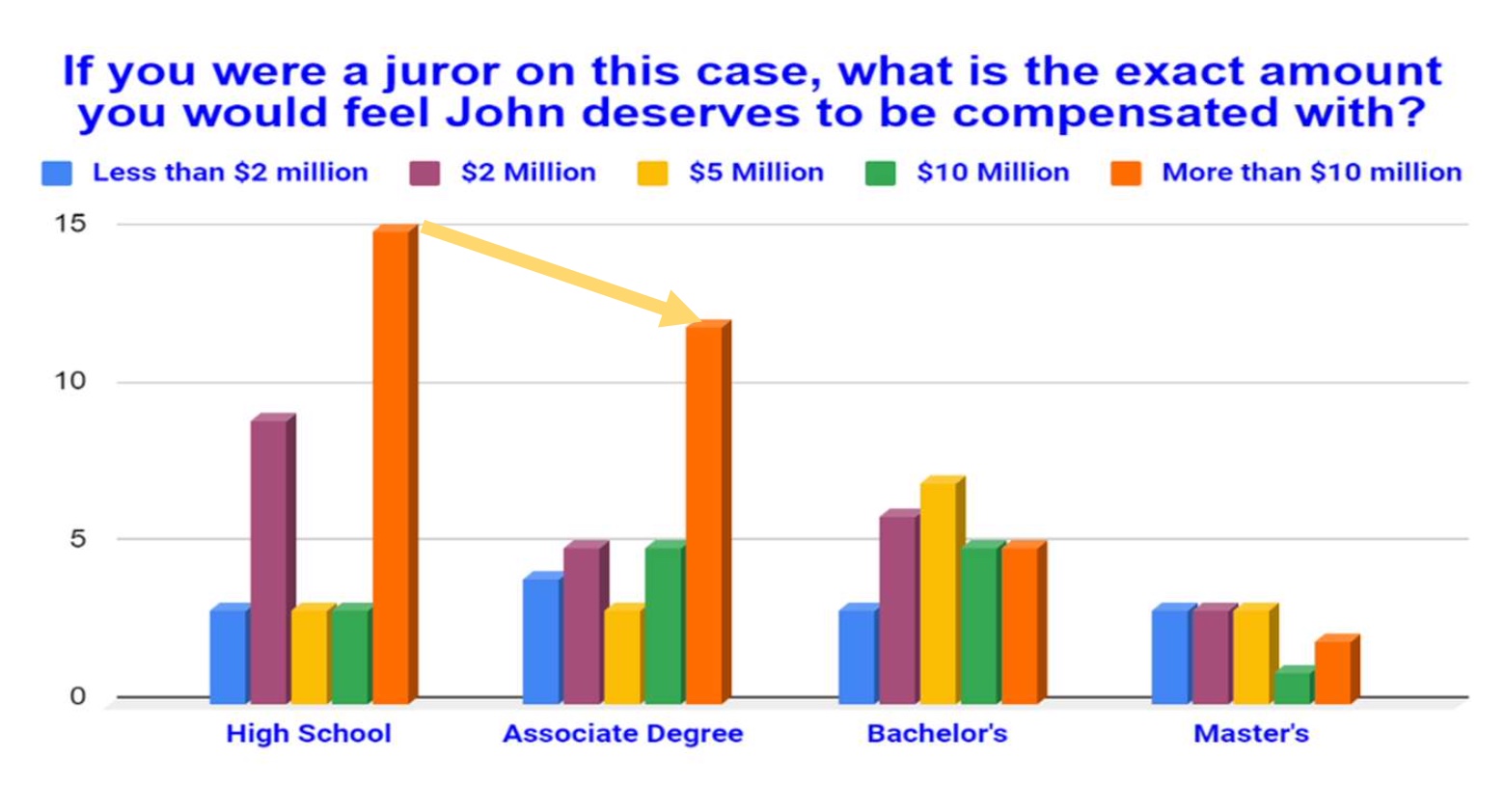 ---
Would you add additional compensation if you knew the driver of the Ford F-250 was using their cell phone when the accident occurred?
By Gender:
By Age: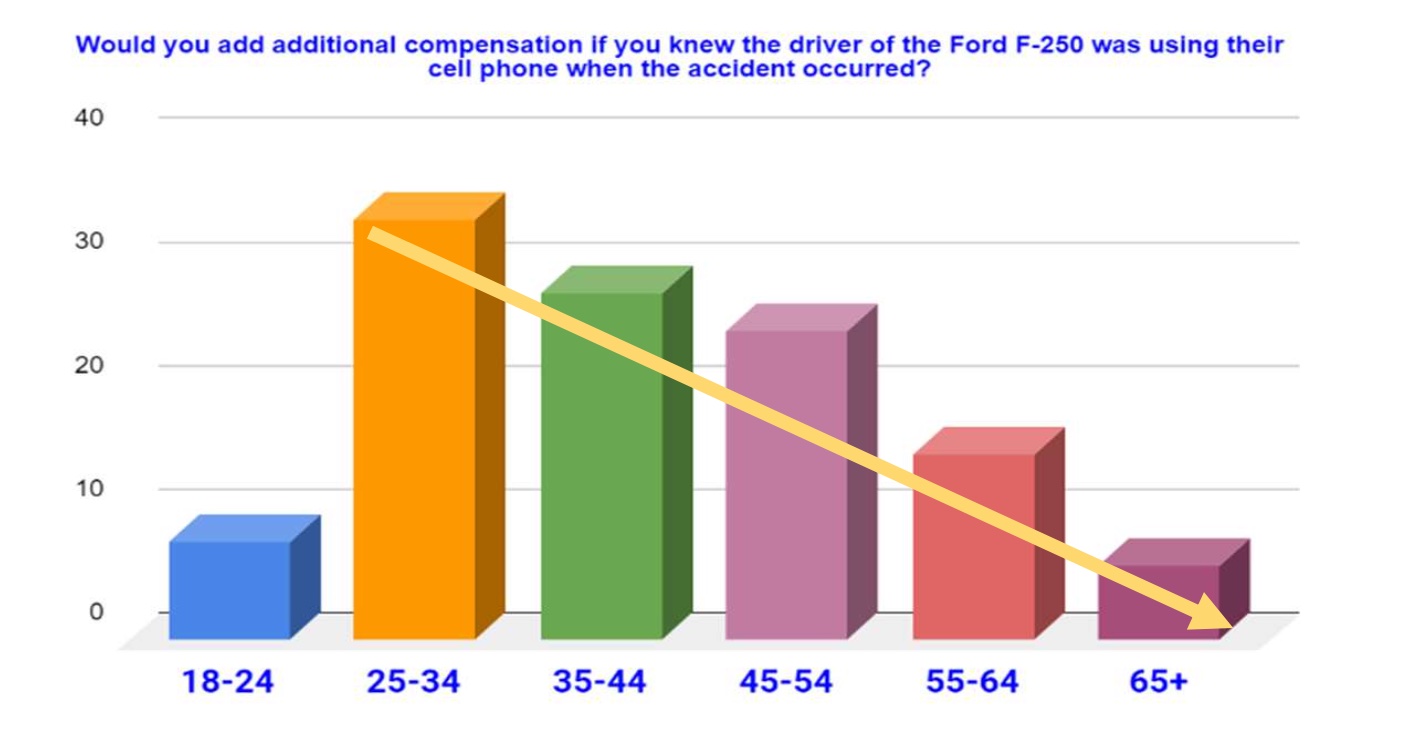 By Marital Status: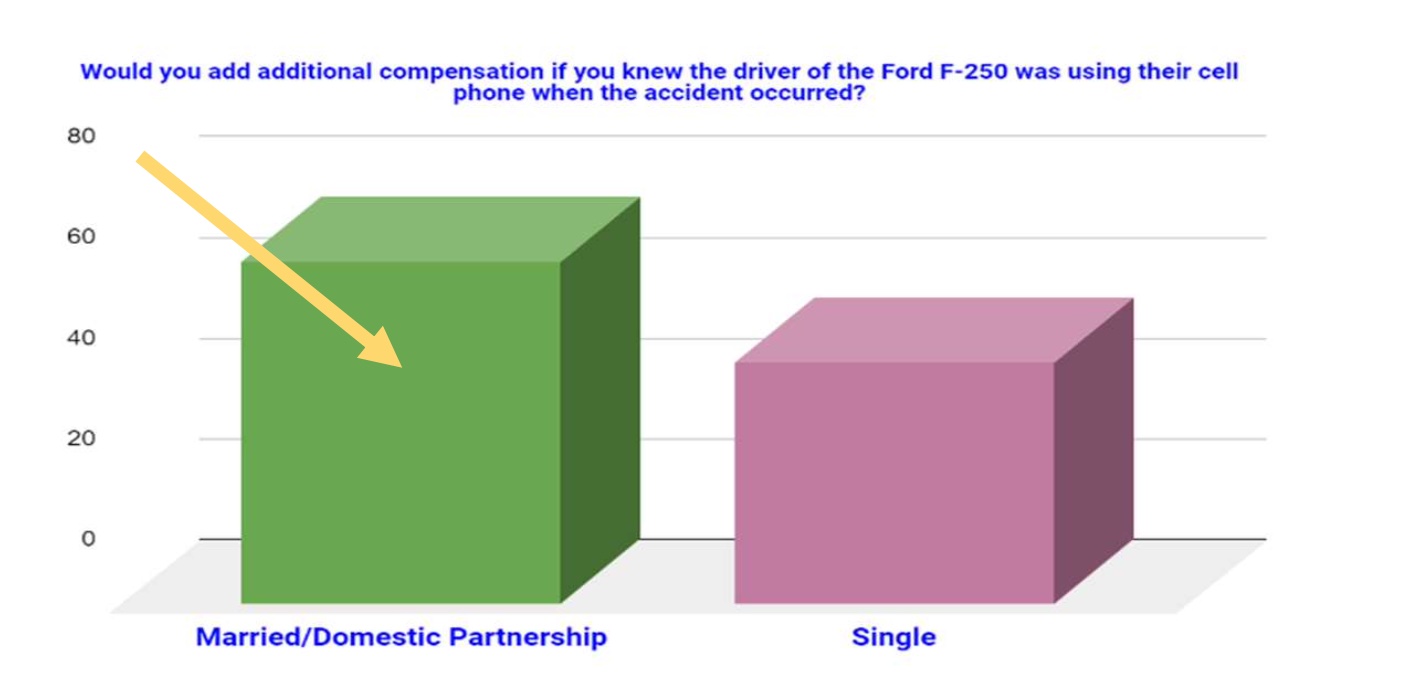 By Education: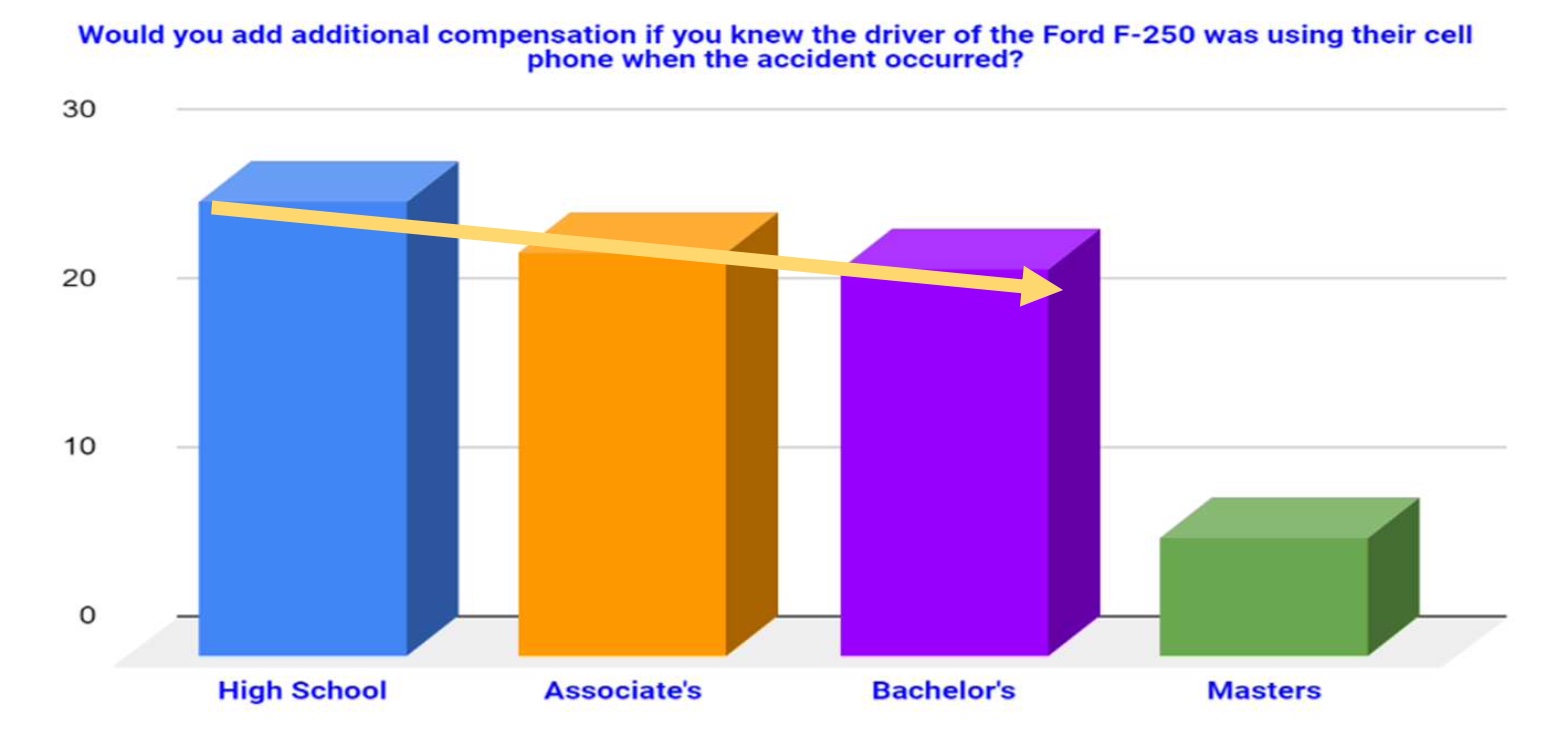 ---
Additional insights provided to the law firm from the report:
The video effectively sets forth a stirring, believable, attention getting message, keenly arousing sentiment amongst our viewers. Specifically, our Truth, Appeal and Believability metrics (TAB Scores) index at least at our benchmark, signaling a well-prepared and well- interpreted narrative.
While evocative and emotionally moving, this video did not cause "over sentiment" among respondents. Specifically, it did not over- arouse or poorly trigger any unwanted sentiment, even though it told a very tragic story. This indicates the viewers stayed objective in their opinions of the facts and made lucid, informed decisions. Importantly, this message is clear of red flags and pain points.
Interestingly, the values and opinions being presented in this research are generally shared by the majority of viewers aged 25-54, yet, there are two noteworthy differences to be observed. (Clearly, this would be among the essential factors to consider in jury selection.)
Gender: Interestingly, Men are potentially trying to "hide" or mask their emotions or are in denial. Specifically, it is odd that men appear to be far less invested in the message – or it just hits too close to home. Women will always "over sentiment," and will be especially sentimental if the subject matter involves a Woman.
Marital Status: Married viewers express the most attention to the story overall, while Widows over-index on the "truth" of the message (it really impacts them!) Singles express the lowest scores on the TABS, as they are not connecting emotionally with the story as they are too young.
Education: The lower the education, the greater the interest in the largest financial award. There seems to be a direct correlation between Education and plaintiff compensation. This probably speaks to their fears and/or dread if this happened to them when they are already suffering financially.
Audience traction is highly engaged from the onset. The intensity of the pattern of Curiosity is clear throughout, as indicated by the highly spikey trajectory.
Clearly the messaging engages viewers, holds their attention, answers potential questions they may ponder, etc. Importantly, there are gaps or interruptions in the viewer's need to find information on the message.
Ultimately the above case was settled for the maximum policy limit of $1 million but $10 million was the unanimous opinion from those surveyed.
Since the cost of evaluating cases through a digital focus group using EmotionTrac's technology is a small fraction of the potential increase in settlement amounts before going to trial, personal injury lawyers have been quick to adopt this technology.

But the benefits aren't just limited to personal injury attorneys.
The following excerpts from another case that went to trial resulted in a $120 million verdict at trial:
---
Background:
The defendant was driving as she approached an intersection with a stop sign that was clearly marked that cross traffic does not stop. Because she was talking to her boyfriend on her cell phone, she was distracted and drove right through the stop sign. She hit the plaintiff's vehicle, which resulted in a high-speed rollover crash.
The plaintiff suffered serious injuries from the crash. Several discs in his neck and lower back were damaged and he sustained a traumatic brain injury to his frontal lobe. These injuries resulted in long term treatment and several surgeries over the course of many years.
With only 48 hours preceding jury selection, the plaintiff law firm was seeking emotional analytics and insights to learn how a potential jury would respond to the facts in the case.
It was also important to include various demographic groups in the panel audience to test for potential jurors and inform jury selection.
The injured in this accident was a Latino Man and the plaintiff was a White Woman; therefore, it was agreed to test the content among three ethnic groups: White, Black, and Latino with an even male/female split to adequately test the various demographics.
The size of the panel audience was increased to adequately test each demographic group's respective sentiments to the proposed case materials and legal argument. The gathered insights from EmotionTrac were needed to inform case strategy and jury selection.
The testing included responses to a series of closed-ended questions relating to a mini opening video of the case. It was designed to shape the narrative so the following research objectives could be ascertained from a panel audience. The panel viewed a mini opening video of the case which included opening and closing remarks, pictures of the plaintiff's family, supporting medical evidence, etc.
For each question asked, the responses were analyzed and graphed as shown below:
---
Does the fact that the defendant is not contesting any of the facts presented in this case influence your opinion on what are fair damages?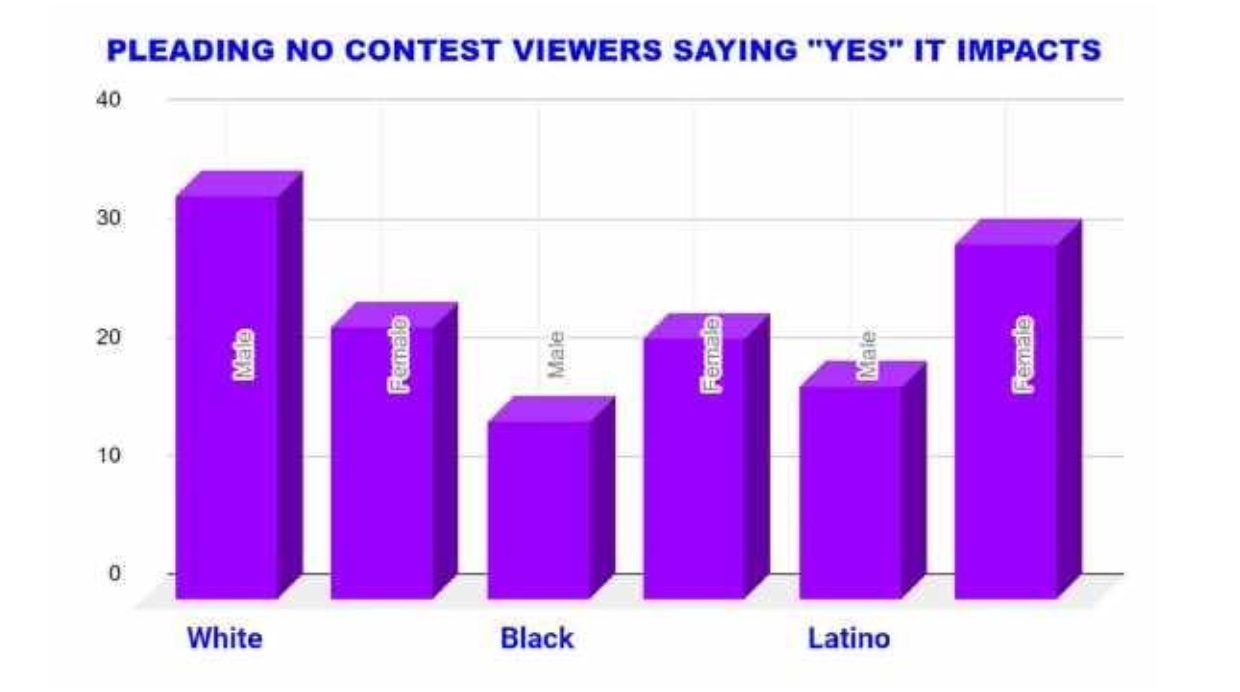 ---
If you were the Juror, what would you compensate for medical care?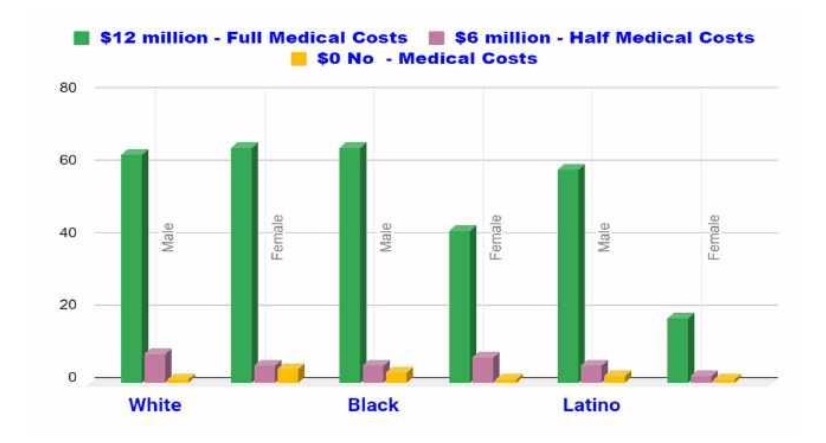 ---
Do you believe $80 million for human damages is a fair amount?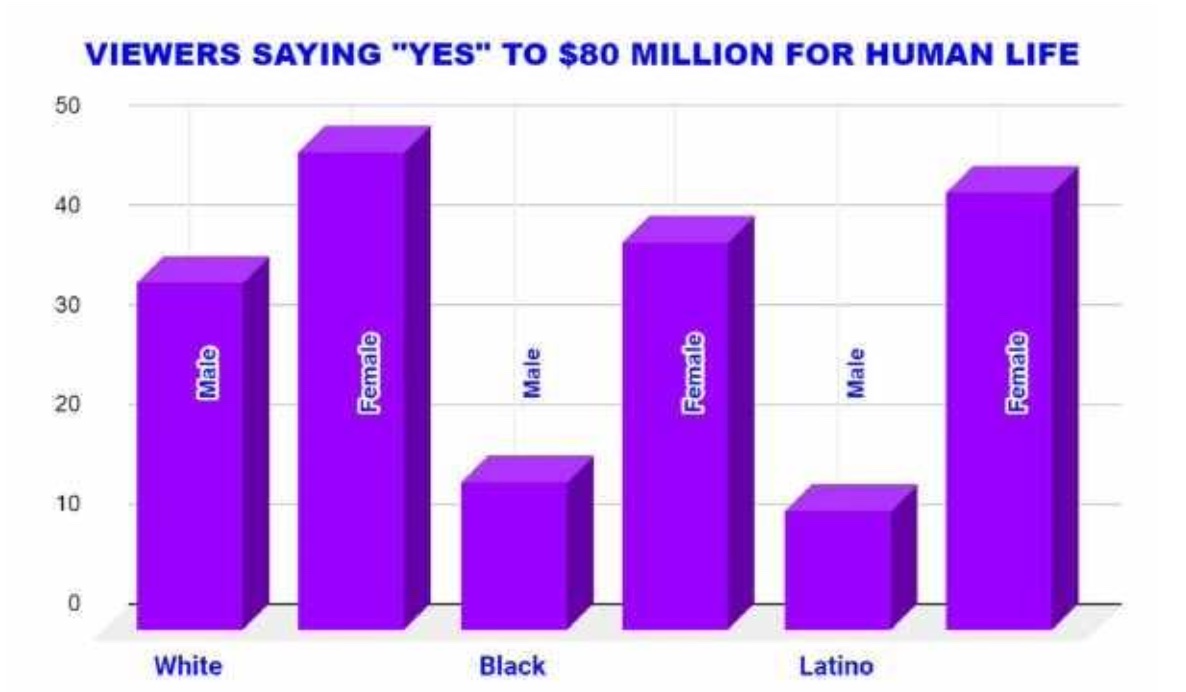 ---
What do you think is a reasonable amount to compensate for human damages for the past 3 years + 21 additional years of his projected life expectancy?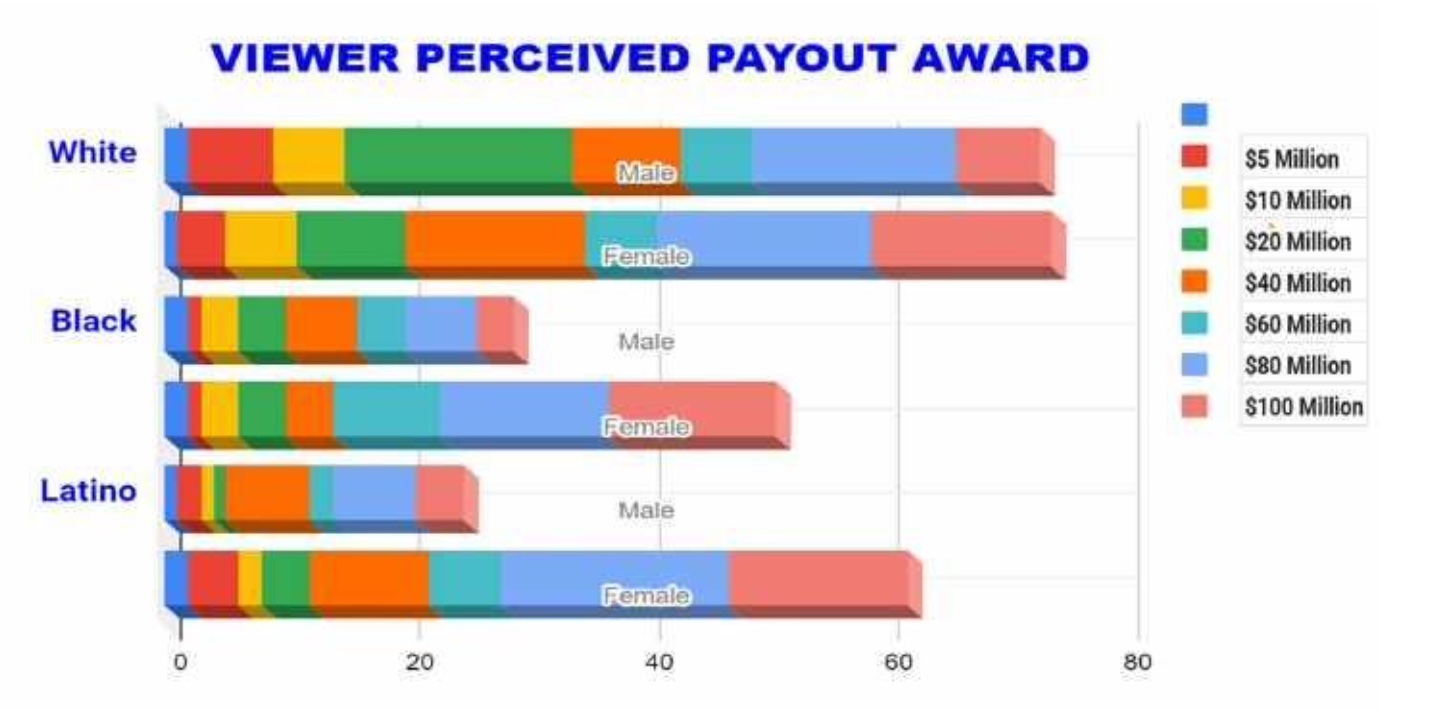 ---
How strongly did the fact that the defendant was talking on her cell phone while driving impact your answers?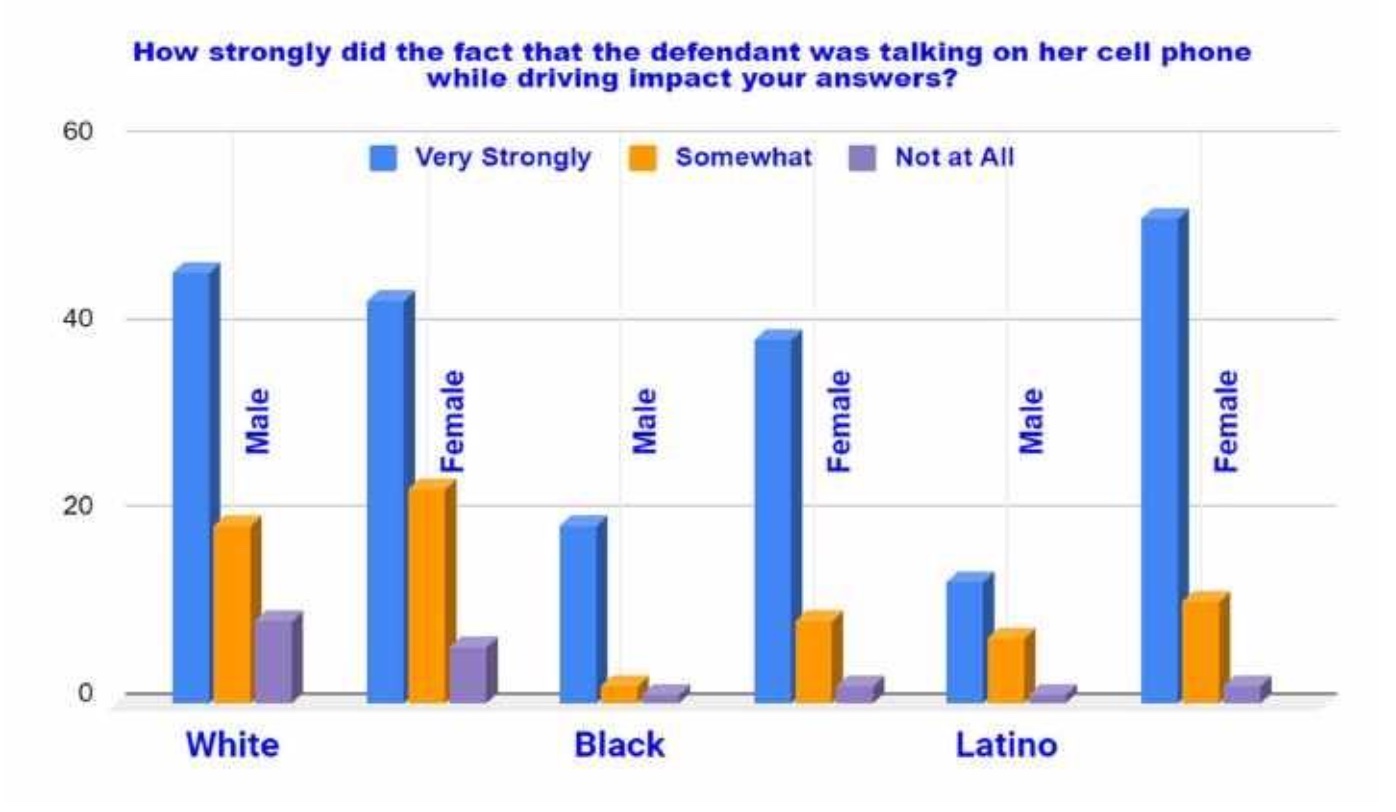 ---
Additional insights provided to EmotionTrac's client:
"YES" was the Clear Choice, Overall, Among All Groups, Regarding If the "No Contest" Stance Impacted Their Opinion On the Case.
• White Males and Latino Males were the most likely among all groups in their convictions to say "yes" regarding their "no contest" position.
• Black Males were least likely to say "yes" it mattered, among all other groups.
$12 MILLION, The Full Amount, Is the Award That Viewers Unanimously Chose
• This choice is hugely indicated over a $6 million award, indicating viewers understand the full value of the story's narrative.
• Latinas, however, were far less likely to choose the full-payout award, further indicating a condition of uncertainty in reaction to the content.
$80 Million For Human Damages Is Seen As a Truly Fair Amount!
• Females were far more likely to say "yes" that the value of a human life is worth at least $80 million dollars.
• Of the Females, Latinas were most likely to say "yes" to the amount, with Black and White women observed saying "yes" – but with lower levels of enthusiasm.
• Importantly, an outlying metric presents with Men regarding their perception of the value of a Human life. Only White Men (not Black nor Latino) expressed high levels of agreement with the monetary value. The other two groups are strongly under-indexed here.
Regarding the dollar value of what is a reasonable amount to compensate for human damages for the past 3 years + 21 additional years of his projected life expectancy is observed as grand value – invaluable potentially?
• Viewers agree in a robust way that Human Life is worth a "fortune" – that is at least, $60 million, with most viewers indicating that $80 or $100 million is extremely reasonable as well.
• No one from any group truly short-changed the value of a human life.
• The specific source of this Sentiment stems partly from their own human experience paired with the messaging from the Asset Reel.
How strongly did the fact that the defendant was talking on her cell phone while driving impact your answers?
• Without question, everyone agrees that speaking on your cellphone while driving will unequivocally affect your driving abilities and the level of attention you pay to road.
• In fact, the answer of "YES – it impacts" was observed at more than 3x as high as those that said no. This clearly points to a strong strategic aspect that would bode well in the case preparation.
A verdict was returned for the Plaintiff in the amount of $120 million. The law firm utilized the insights gathered from EmotionTrac to identify a juror profile that supported the plaintiff's case. In addition, the results from the EmotionTrac focus group supported a higher case valuation than what the attorney had originally planned for.
These aren't the only ways attorneys are using EmotionTrac. Testing witness credibility, opening statements, closing statements, and even advertising for law firms has seen dramatic benefits from using this emotion AI technology.